Baxter
Poodle-Shar Pei Mix – recovering from torn cranial cruciate ligaments
Baxter is a 7 year old Poo-Pei. The most expensive pound puppy we know. He is a very well mannered, very bright 25 pound, poodle-shar pei mix that has become a member of our family.
In November 2008, he was chasing a bunny in the park (he's not quick enough to catch one, but he loves the chase) and pulled into a limp. The vet recognized the torn ligament and advised us of the options.  He had surgery for an ACL tear and had a titanium plate placed in his leg. He was a trooper about it and the vet suggested physical therapy to ensure he would actually USE the leg because he had become comfortable running around on 3 legs. After spending the $5,000 to fix his leg, we figured we ought to make sure he used it.
We came in to see Tammy Wolfe. She was reassuring and told us she could help. She did hands on manipulation to relieve the muscle tension in his back and leg and told us he was improving. After the second "treatment" we suggested that we were paying a lot to have the dog petted, Tammy laughed. We didn't. The next visit Tammy explained that she had worked on his muscles and was doing a procedure to let Baxter know he could put weight on his leg, that it was ok. We thought, right…. Well, after he got home and we took him out for a short walk, he put all his weight on the 'bad' leg and lifted the other leg to pee. We were amazed.
He subsequently went through a few months of hands on manipulation along with work on the underwater treadmill. It actually helped rebuild the muscle in his leg and brought him back to normal. We were nearing the end of the scheduled therapy and got a clean bill of health from the Vet and from Tammy. She let us go with home instructions to continue his exercises and build upon his improvement.
A week later, he was running down the stairs, hit the bottom and poof — the other leg went up. We knew immediately what had happened. Seems it is a genetic issue and when one ligament goes, the other often does too. Tammy had told us about the possibility, but of course you don't want to think it will happen to YOUR dog. Well, we already knew as soon as he was out of surgery, he'd be back to see Tammy. Baxter's recovery on the second leg was much quicker; we attribute it to starting therapy sooner. Tammy is professional, friendly, caring, knowledgeable and focuses on the dog while giving great advice on steps to help the progress at home. She truly cares for Baxter and Baxter can't wait to go to therapy. We're so glad the vet suggested therapy and we're even happier Tammy was the person there when we needed her.
Thank you Tammy!
John Fuller
Oslo, Finn and Neut
The Newfoundlands
My name is Cindy Elkind and I am the owner of three Newfoundlands. Oslo is 5 years old, Finn is 4 years, and Neut is 3. Owning Newfoundlands is the greatest joy of my life, and can also be the most trying. These lovable, empathetic, affectionate, wonderful BIG black bundles of fur can be subjected to numerous health issues. After losing my first Newfie, Lars, to a range of orthopedic problems which forced him to give up his will to live, I decided that I would do my best to strengthen my other Newfs, hopefully sparing them from what their "brother" had to go through. I decided in 2004 to start incorporating swimming into my dogs' daily routines. I found the Animal Lodge Canine Rehabilitation Center at VCA Alameda East Animal Hospital, and have been working with Tammy Wolfe, who runs the canine and feline program there ever since. Tammy is a licensed canine and human physical therapist, specializing in orthopedic and sports medicine rehabilitation. She is also a CFP and a CCRP.
The K9 Body Shop at the Animal Lodge is a state of the art facility and concentrates on sports medicine and rehabilitation of our canine children. There is a swimming pool that measures 20 feet by 9 feet with 12 jets so the dogs swim against resistance, plus two underwater treadmills. Tammy feels that the best form of strengthening and conditioning is swimming for my boys.  It offers the best cardio exercise while working essential muscle groups and eliminating the stress on limbs when walking and/or running. That was 4 years ago that we started the swimming portion of their conditioning and it was only a short time before I saw changes. They have built up muscle mass in all limbs and along their spines which has given them much more endurance than the average Newfie.
As with all giant breed dogs, mine have encountered various problems over the years. Finn has had to have surgery for a torn cruciate ligament, a partial tear in the other knee, and arthritis in his elbows and back. Oslo has had recurring problems with a bone spur in his left hock, which has caused biceps tendonosis in his right shoulder. Tammy has worked with us all along using her knowledge and methods to rehab Finn and Oslo and keep them comfortable, including using the underwater treadmill and the pool. Both boys have utilized Tammy's wide expertise for injuries including a method she performs called "Feldenkrais" which is a "movement technique" where she uses her hands to align the spine. We are at the Animal Lodge 4 days per week every week.
My experiences at the Animal Lodge at AEVH have been nothing but the best. The facility is top notch and Tammy is superb. Tammy Wolfe is the premiere physical therapist in this state. Her experience and knowledge is second to none and I trust my precious fur children explicitly with her, which is quite a lot of trust. Tammy has an assistant named Jessica (last name), who assists Tammy is all ways and is always eager to help me no matter the request. Jessica is highly skilled and her demeanor with the animals she treats is exemplary. I would recommend Tammy and Jessica to anyone, (and do often), whether their dogs need to rehab an injury, lose extra pounds or just to condition their way to a healthy, happy life. Tammy has a personality that affords her infinite patience with her patients and their parents. She is one of the few around who give till they cannot give any more and her patients love her for her care.
Cindy Elkind
Tallulah
Recovering from TPLO Knee Surgery
My dog had TPLO knee surgery at the CSU vet hospital and we began physical therapy 4 weeks after her surgery. During my consultation visit with Tammy, she walked me through the process and was very informative as to the step by step process involved with rehabbing a dog from knee surgery. Although I was very skeptical prior to beginning the process, my surgeon highly recommended I utilize physical therapy rehabilitation from a professional institution.
During my bi-weekly visits with Tammy, I found her to be incredibly helpful in both understanding the rehabilitation process, as well incredibly caring towards my dog. I noticed substantial progress made by my dog during our time at rehabilitation and during our 8 week post-op check up, the radiographs showed bone healing that was far more advanced than expected. My surgeon expressed his opinion that the reason for the progress was a direct result of the physical therapy and said he could always tell when a dog did, and did not do physical therapy post operatively. We are now in our 14th week following surgery and by all accounts my dog is back to her normal rambunctious self.
Although I began as a great skeptic of the physical therapy process for dogs, I have now been converted into a full believer. The service I have received from Tammy and the Alameda East staff has been of the utmost quality and I attribute the majority of my dog's speedy recovery to their guidance and care. I cannot express enough my gratitude for the service Tammy and her group have provided during a very trying time in my dog's life.
Chris Huffman
Tigger
West Highland Terrier recovering from Ischemic Myelopathy (vascular disease of the spinal cord)
Tammy, I am remiss in writing to you. One of my goals this holiday season was to give thanks for all of the good fortune that I have experienced. In pursuit of this objective, I am writing to say that you are high on my list of people and things for which I am truly grateful.
Your knowledge of canine physiology, persistence and encouragement resulted in a miracle for Tigger and for me in the midst of a tough year. On June 3, 2008 when I awoke to my totally paralyzed, ten year old West Highland Terrier, I didn't know what to do. I immediately took her to my primary vet at Alameda East, who then sent me to VRCC's MRI (and one of the nation's only canine neurologists). After seven days in that facility's ICU, I was told by the neurologist that it would be surprising if Tigger ever walked again. He suggested I buy a cart and keep careful watch over Tigger's progress for 90 days. Upon receipt of this diagnosis, I asked if there was anything else that could be done to rehabilitate Tigger who had suffered Ischemic Myelopathy.
I was told that I could do some mobilization exercises with her, but that "the blood supply that had been truncated was gone forever." With a heavy heart, I began caring for my paralyzed dog, dosing out medications six times daily, running home from the office three to four times a day to roll her, massage her limbs and hold her over the grass in hopes that she would relearn bladder and bowel control.
On June 10, 2008, my vet Holly Knorr introduced me to the possibility that there could be physical therapy for Tigger. Holly's introduction to you was a turning point for Tigger's recovery. The hope that your practice provides to pet owners during the horrible days following a catastrophic accident is invaluable. Two weeks following her accident, Tigger was benefiting from hands on massage and muscular/skeletal manipulation, interaction with other animals (which kept her engaged while she struggled to recover) and cutting edge therapies.
Sixty days of therapy gave Tigger some independence as she re-learned how to sit, roll over, stand, and bark. Ninety days of PT saw Tigger bounding through the open space with her new bouncing gait (never was there a more aptly named dog). As we enter Tigger's fifth month out of therapy she has mastered some new tricks, blocking and tackling her brother Henry in pursuit of her favorite pink pig, combat crawling under the covers for snuggles and howling when its walk time.
You gave me my old dog back…with some added quirks. I will gladly speak to any of your clients that may have questions about the project. Your services are a bargain at twice the price.
Thank you, and best wishes for a healthy, happy, and prosperous 2009.
Natasha K. Felten
Brandie
Suffered a spinal stroke (FCE)
On 2/3/13, our seven year old border collie, Brandie, suffered a spinal stroke (FCE). Without warning or incident, she was instantly paralyzed from the mid-back down. We rushed her to the ER where the on call neurologist told us that whatever her status was after the initial 24 hours was likely permanent. After nine days in the hospital, she was released with little hope in a wheelchair and diapers. The neurologist did not discuss nor refer us to PT. The only at home exercise we were given was ROM to simply gauge progress, if any.
We were devastated and heartbroken but determined to give Brandie the best quality of life possible. Brandie was a fighter but we could see her frustration building. She loved the wheelchair because it allowed her some independence, but she seemed embarrassed when her diaper needed changed.
Luckily, our family vet found another neurologist, Dr. Rainier Ko, at Wheatridge Animal Hospital. Our first visit was on 2/25/13, Dr. Ko gave us hope and referred us to Tammy. He explained that Tammy had over 20 years of training/education and that if anyone could give us a miracle, she could.
Our first rehab visit was on 2/27/13. Initially, Brandie could only swim a few laps and only with assistance. However, with every visit, she got stronger. Within days she was out of diapers and the wheelchair and only required assistance with a sling to walk. Soon Brandie was able to swim 12-15 laps which meant she was ready for the underwater treadmill then manual therapy. Tammy's self-developed hands-on technique is absolutely amazing. Every time Tammy performs manual therapy, Brandie's posture and gait improve. The treadmill not only provides exercise, it retrains her how to walk properly. Currently, she is able walk a half mile on the treadmill in only 15 minutes. We continue bi-weekly visits and with every session, Brandie continues to improve. Thanks to Tammy, Brandie has excelled beyond all expectations.
It took a team to get us to this point, but Tammy was the leader. We honestly do not know where we would be today without her. Every time we enter her office, we are greeted with positive energy and genuine concern for Brandie's progress. She not only gives Brandie physical treatment, she helps us to stay positive about Brandie's future which is now truly bright. We will be forever grateful to Tammy for giving Brandie her life back and for giving us Brandie back.
David, Katherine and Brandie Catherman
Maya
Diagnosed with Coonhound Paralysis
Maya is a 9 year old Rhodesian Ridgeback that we took on originally as a foster. Maya went through 4 fosters before us within a few months. She was diagnosed with Coonhound Paralysis. When we got her in January 2013, she pretty much just laid there, no sign of a normal dog anywhere in that brain, and could pickup only her head and that was about it. We had high hopes but also were realistic. We bought a garden cart from the store that we took Maya outside with and wherever she needed to go. She needed help continually in every possible action, ones we as dog owners normally take for granted when you have a healthy dog. Every vet and internet article said she would die within 2 weeks, or would recover 90-100%. She was still here, and so we went to K9 Body Shop.
Tammy had a really awesome setup and a gentle touch with Maya. She gave us a realistic yet simple approach that has proven to be the model of success for Maya. Hard work and take one day at a time. She sent us home with a list of exercises to do for stretching and balance with Maya.
We began taking Maya and having her swim in Tammy's pool. Maya swam begrudgingly for 30 minutes 3 days a week.  This lasted for about 6 months. One day in the summer we attempted the underwater treadmill with Maya wearing her life jacket and she surprised us for sure. She only lasted a few minutes but it was the first time we'd seen her walk almost like a normal dog. Maya was a fighter in both terms of she can't stand the water, and also that she'd be a trooper through this every week. Tammy made adjustments along the way to ensure what was best for Maya. For the next month or two we did a mix of swimming in the pool and walking on the treadmill. Soon enough Maya was only doing treadmill.
There was a huge improvement in Maya around the house after six months in. If you helped her up, she'd walk short distances. Soon she began to be able to stand up on her own. Sometimes she'd just stand there for 10 minutes. We were elated the day that Maya walked across the yard on her own prompted by the cat. She was heavily treat motivated so we worked with her walking in the yard in between K9 Bodyshop days. Soon enough, Maya was getting a physical workout everyday in some form.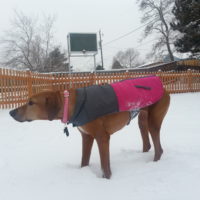 Nowadays Maya is essentially a normal dog. She's put back on the 30 pounds of muscle she probably had years ago. She stands when she eats and drinks. She walks outside to go the bathroom. She walks to and from the car, even down and up steps assisted. She stands up in the car, and looks out the window, something she hadn't done for a year. She'll even run in short bursts coming in from the snow or playing with our other dogs. There is no garden cart in sight and we haven't carried her anywhere in 6 months, which our backs highly appreciate. She's no longer aggressive to house guests, and meets them with a nuzzle and a wagging tail. We now go for short walks around the neighborhood with Maya and she loves it. She is overall a new dog. She's no longer a foster, but part of our pack.
We don't know how much longer Maya has with us as she's an old girl for her breed, but she is happy once again, and we'll take that. Thanks to Tammy, and her staff and her one of kind business approach, we cannot say enough good things. I didn't even know there was such a thing as dog therapy previous to this, and I'm so glad we were able to meet Tammy and Judy through this process. Taking a paralyzed animal that needs help and going through therapy from start to finish is a tough and rewarding experience in which we've learned a lot, even some good life lessons. Ones we won't forget. The combo of Maya and Tammy was a doggy win for Maya, and a truly personal win for us. We've spent a lot of time at K9 Bodyshop in the pool and treadmill, and it's amazing to see all the dogs with injuries or conditions that come in and to see Tammy do her magic with them. She's got a genuine love for these pups and it's definitely a great thing to see.
Thanks again Tammy for all you do!
Adrienne & Nathan